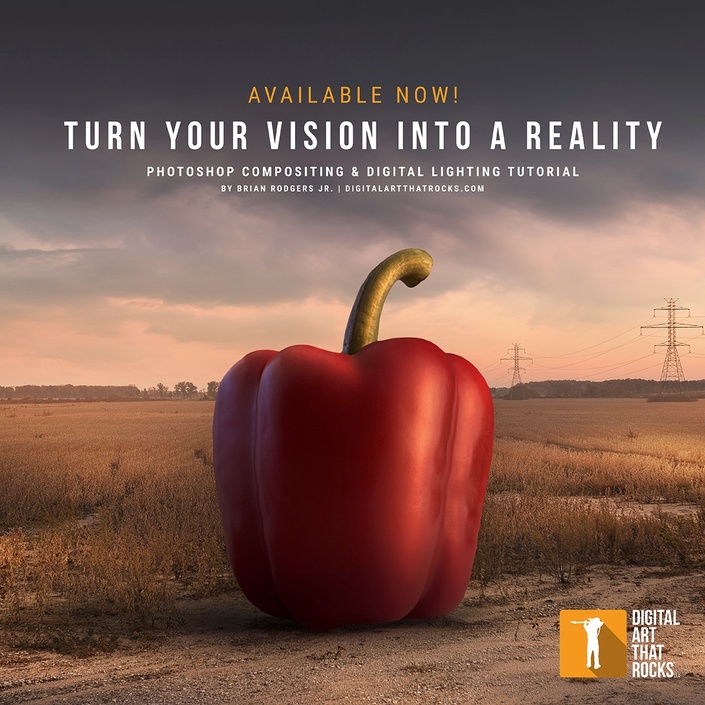 "Only In Twilight" (Streaming Only Version)
Photoshop Compositing & Digital Lighting For Soft Light Composite Imagery
Watch Promo
Learn How To Create Stunning Soft Light Composite Imagery In Photoshop!
This tutorial is taught by award winning Commercial Photographer/Digital Artist Brian Rodgers Jr. of Digital Art That Rocks!
TURN YOUR VISION INTO A REALITY
This comprehensive 3+ Hour Photoshop compositing tutorial will help you turn your vision into a reality! The focus of this tutorial is to help you build the essential Photoshop skills you need to start creating stunning soft light composite imagery. The methods & techniques taught in this tutorial are also helpful to other Photoshop users including retouchers, and designers alike. This course is packed full of real world Photoshop experience & time saving keyboard shortcuts
ABOUT: STREAMING ONLY VERSION
This version of the tutorial is perfect for those who don't need practice files or video downloads, and simply want to watch the tutorial videos via internet streaming, similar to Netflix. Once logged into your account, you can stream these tutorials right to your computer or mobile devices through an internet browser. Your Digital Art That Rocks tutorials are mobile compatible and if you are using the Google Chrome browser, you can stream these tutorials right to your HDTV via Chromecast!
---

---


---



STUDIO TUTORIAL
We'll talk about lighting theory & quality of light to match the soft light qualities of our backplate
Brian will share studio tips on how to re-create soft light on your subject in a studio environment
How to properly gel a soft box
Bonus Video: How to make a modified C47 Clamp (an indispensable tool for any studio or location photographer)
PHOTOSHOP & LIGHTROOM TUTORIALS
Create realistic High Dynamic Range imagery right inside of Lightroom CC
Merge several images together in Lightroom into a seamless panoramic image
How to create a faux panoramic image from one single frame in Photoshop
Clean blemishes off your subject like a pro
Knock Out your subject from it's original background
Color match your subject to the backplate
Build realistic shadows from scratch
Learn how to composite dramatic skies with ease in Photoshop
Learn to create out of this world digital lighting effects
Color Grading Techniques
NOTE: THE STREAMING VERSION DOES NOT INCLUDE PRACTICE FILES
---
Still Not Sure? Check Out This FREE PREVIEW
---
FINAL COMPOSITE IMAGE
©Brian Rodgers Jr. All Rights Reserved. www.digitalartthatrocks.com
Your Instructor
Brian Rodgers Jr. is an American Advertising Federation award winning commercial advertising photographer and digital artist based in northern Indiana specializing in product & architectural photography. Brian's work has been featured in various national publications including the cover of Photoshop User Magazine. In addition to running a full time commercial photography business he's a published writer and educator, contributing and producing tutorials and other content with Fstoppers.com